gorjana's guide to
The Art Of Layering
All gorjana pieces are designed to be mixed, styled, and stacked to fit your own personal style. Start with a lariat or an adjustable long necklace like the Laguna Adjustable necklace. Add a simple mid-length necklace like the Taner Bar Necklace and finish it off with a fun choker, hoop earrings, and layered bracelets.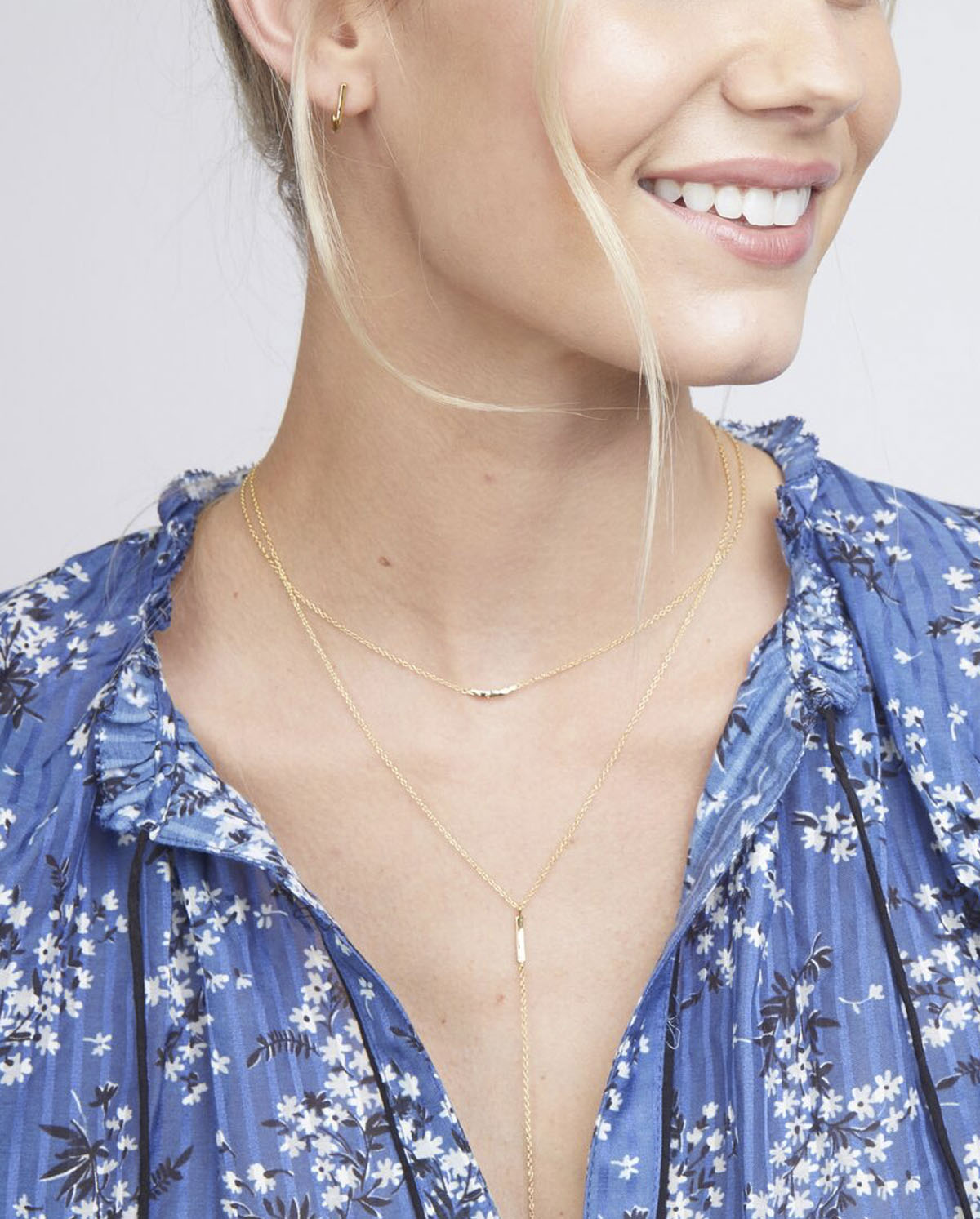 In 2004, Gorjana Reidel followed a creative impulse and launched an eponymous, quintessentially Californian jewelry line with the help of her husband, Jason Griffin Reidel.

The driven and passionate duo combined their individual strengths to build the company from the ground up. They hit the road with samples in tow and drove a collective 50,000 miles to sell the initial collection. Initial orders were fulfilled from their apartment floor and they worked the trade show circuit as a team of two.

With their relentless hard work came success--the company has grown from an idea into a full-fledged, multi-million dollar business, still owned and operated by the couple 14 years later. gorjana jewelry can be found in over 1,000 retailers nationwide, not including the brand's own retail locations.

After opening their first brick-and-mortar location in Laguna Beach in 2016, Jason, Gorjana and the team began a rapid retail expansion on both coasts.
There are now eight gorjana locations across California and New York with plans for more.

With the expansion of its retail footprint, the company has amassed over 100 employees while valuing innovation, collaboration, authenticity and giving back to their local community.

At the local level, the company and local charities co-host fundraising events in-stores and donate a percentage of proceeds back to the cause of choice. Jason and Gorjana also actively donate jewelry to be used at auction for local benefits and galas across the country. The company has run a local food drive for over a decade and also actively donates to the Children's Hospital of Orange County and the With My Own Two Hands Foundation.

If you are interested in hosting a fundraising shopping party or are looking for an auction item, please contact us.