We recently sat down (virtually) with artist, Lauren Williams - who's best known for her Canvas With Movement® textile art. Fun fact - each gorjana retail store features a piece of Lauren's beautiful artwork!
*All images by Adrian Faubel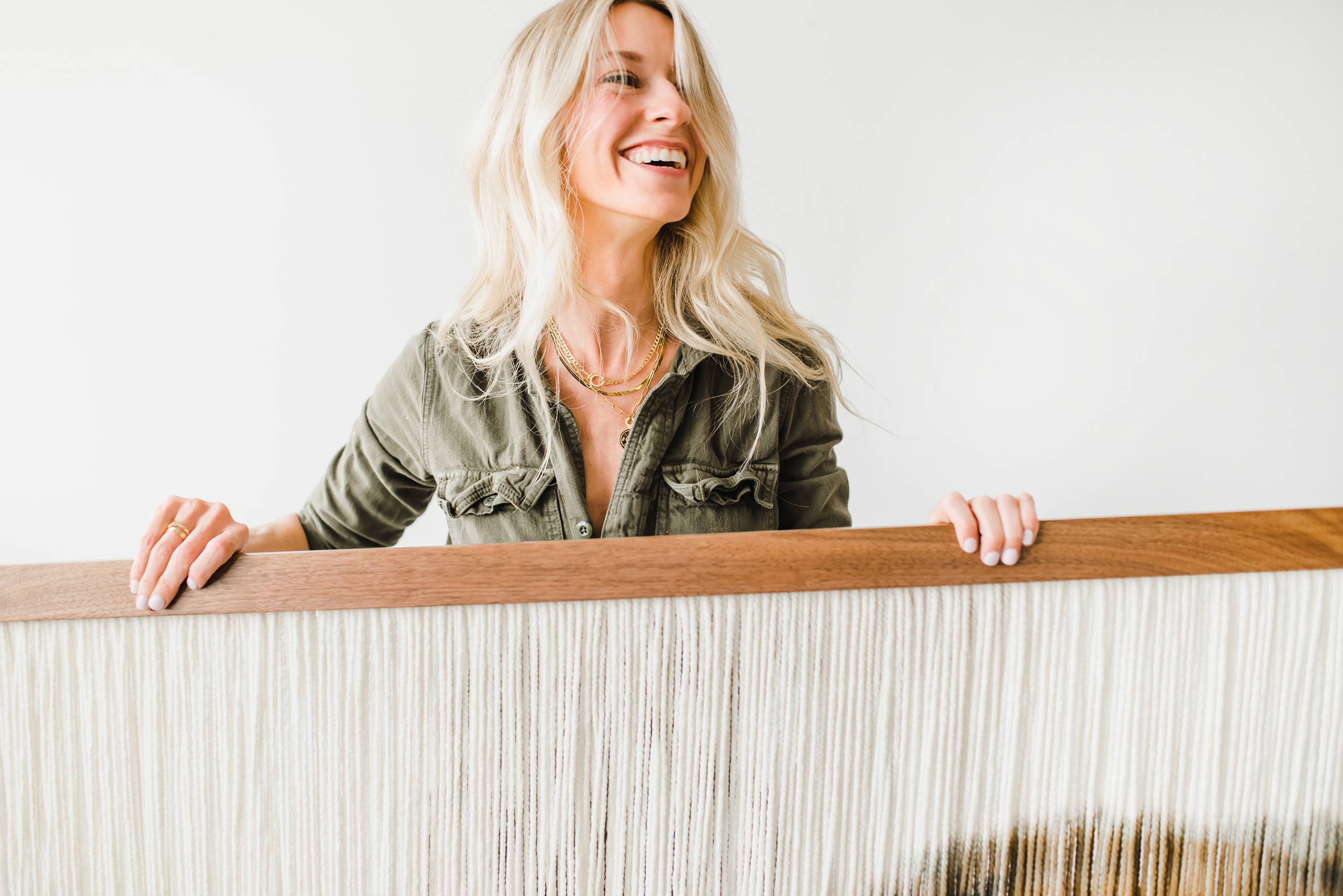 My name is Lauren Williams and I am an artist, best known for my Canvas With Movement® textile art. I run Lauren Williams ART+HOME with my husband, James. We sell my textile art, paintings, and custom collection of art-inspired rugs.
HOW WOULD YOU DESCRIBE YOUR STYLE?
Effortlessly cool and relaxed.
WHAT PIECE OF JEWELRY COULD YOU LIVE IN ALL DAY?
WHERE DO YOU DRAW INSPIRATION FROM?
Art and inspiration is everywhere that we choose to see it. My garage studio is nothing but cement floors, drywall and a roll up door, but looking around as I take a pause during my work day, I find color combinations that are so inspiring: The texture, grit, drops, layers, shapes and colors that spill onto my floor and splash onto my walls bring me so much inspiration, and I continue to stare at every inch of it throughout my day. Even when it's a struggle some days to create in my garage studio, I'm thankful that art continues to find me. And push me. Inspire me. Excite me.
Nature also is a big source of inspiration for me. My childhood was spent outdoors making things out of found objects. I remember wanting to paint but not having a paintbrush one summer afternoon when I was about 7 years old. I ended up using a stick and wrapping a feather with string to the end and thought it was even better than the real thing. I'm sure there was a paintbrush somewhere in our house, but making it with found natural objects myself was my immediate reaction. I still create things myself, even if I could buy it somewhere. Making things myself ends up leading me to create new and interesting objects and art.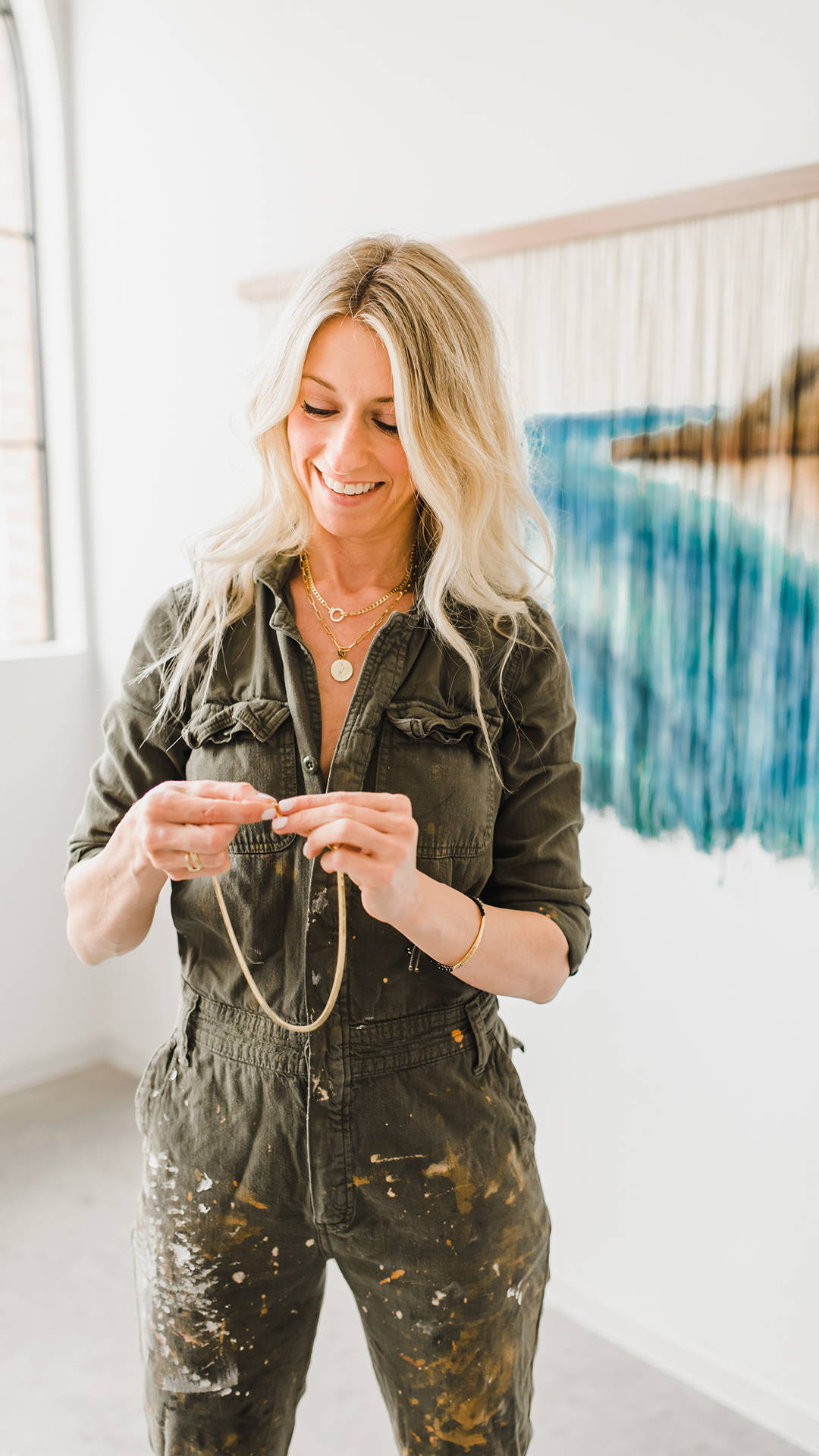 WHAT BOOKS ARE YOU READING?
Currently reading The Winemaker's Wife by Kristin Harmel. Basically anything historical fiction!
WHO OR WHAT IS THE GREATEST LOVE OF YOUR LIFE?
My husband James. James is the first person who ever called me an "artist" and has been the voice in my ear that pushes me to unapologetically be the artist I was created to be. There are days when I'm full of doubt, completely disappointed in my work, and he brings in such balance to my thoughts, reminding me that the creative process always includes doubt and fear. As a former film producer, his experience with actors, directors and the creative process, has been a key factor to me understanding how to be an artist, run a business and balance both roles successfully. James is the other half of this business, and on most days, I'd say he is the better half. God truly knew what he was doing when he put the two of us together.
I paint. My textile artwork has been a very consuming medium over the last 6 years, as my art sales have been through the roof! When I first started creating my Canvas With Movement® textile art, it was my creative outlet. Now that it is a full time career, I love painting to unwind. Painting on a solid canvas (that doesn't move, ha!) has been very therapeutic and enjoyable. I also love to do yoga- any chance I get to have quiet time on my mat is very appreciated.
WHAT'S YOUR CURRENT FAVORITE SONG?
Not many people know this, but I'm a huge Dolly Parton fan. After watching her biography I was so inspired by her entrepreneurial mindset and songwriting brilliance. I love her songs "9 to 5" and "I Will Always Love you" and also "Coat of Many Colors". She's such a force of creativity, kindness and strength.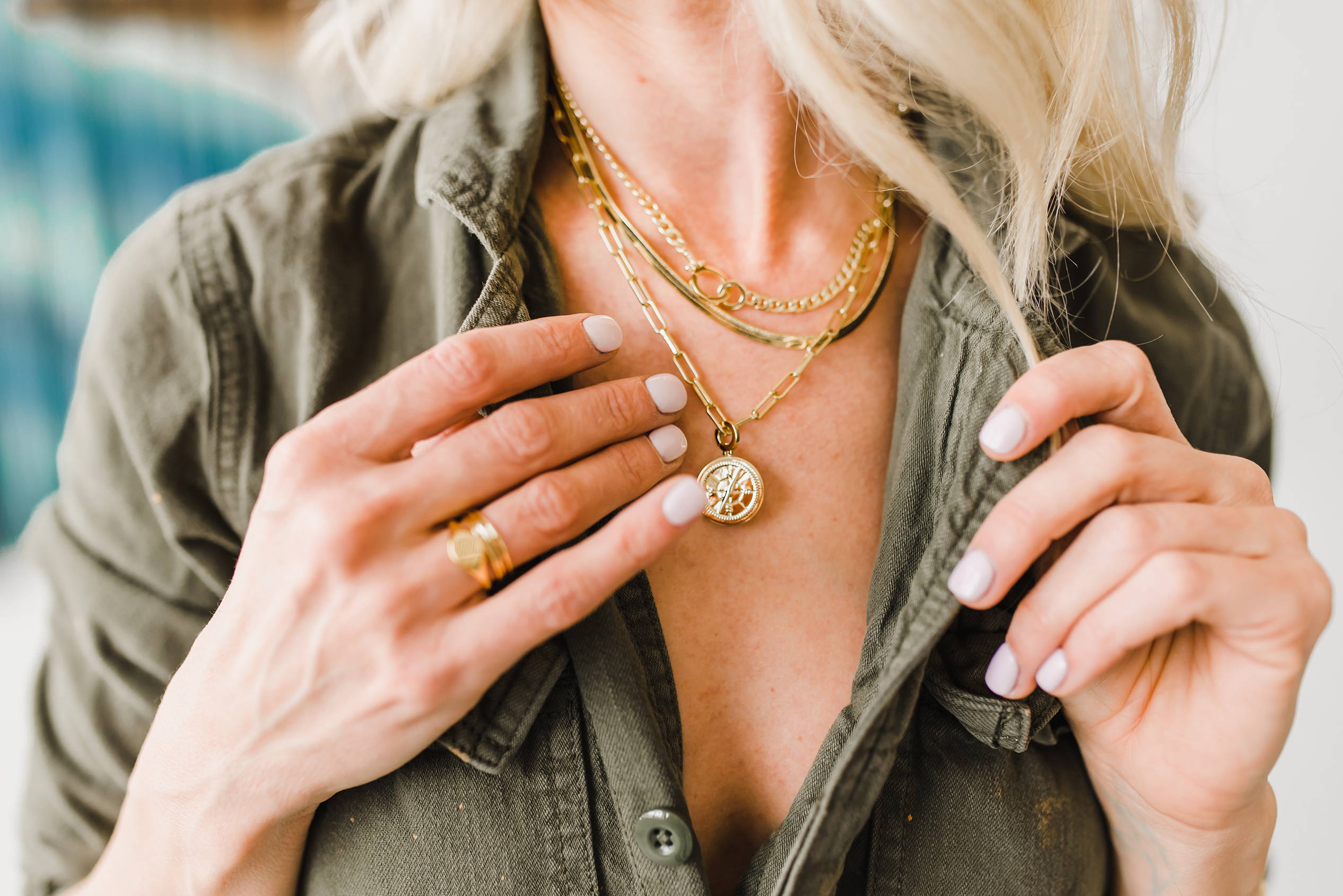 WHAT IS YOUR MOST TREASURED POSSESSION?
Family photos! I take a million photos of my artwork for instagram and for website content. It's wild how many images of my work live on my phone compared to photos of my family. After working so much on my phone, I really enjoy disconnecting and putting screens away so I can relax, which means I don't take a lot of photos outside of the studio. So, any photo that gets captured of my family is so special to me.
What's constantly in my mind and my heart is "have faith over fear."
My favorite verses are Matthew 6: 26-27: "Look at the birds of the air; they do not sow or reap or store away in barns, and yet your Heavenly Father feeds them. Are you not much more valuable than they? Can any one of you by worrying add a single hour to your life?"
When I first started creating art for the gorjana stores in 2018, I received the sweetest gift from Gorjana including many of her Power Gemstone Bracelets. I gave two to each of the women working in my studio and kept two for myself. We all still wear them and always get compliments. They are so easy to wear and look beautiful.
Learn more at www.laurenwilliamsart.com and on Instagram @laurenwilliamsart